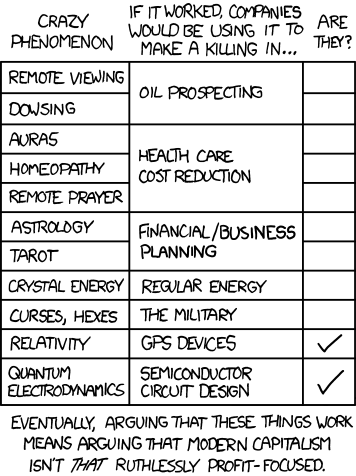 I recently saw this chart from XKCD.com.
Despite living on a webcomic site, it seems serious enough in its intent.
I thought it was worth jotting a few notes on why I felt its argument – despite having some merit – is basically flawed.
Secrets
Firstly is the problem of data gathering. Western Capitalism – with its corresponding military and political structures – is by nature a secretive beast. It has to be to survive.
How is it possible to say with any certainty what is going on behind those tightly closed doors?
It does seem unlikely that corporates would be employing some of the 'crazy phenomenon' to make money. What's more unlikely though, is that any would admit to doing so. Solid arguments cannot be built on this kind of silence.
A Materialist World
Given the basic materialist Western world view that dominates within these institutions who would consider investing in the research to start with? (Think Donald Trump and The Apprentice or Dragon's Den)
Catch the Wind
It is the same materialist world view which says that only those things measurable by the scientific method are 'real'. 'Paranormal' phenomenon, however, by their very nature resist investigation by these methods and for similar reasons would resist being harnessed for capitalist exploitation. This is a common theme in literature and narrative – think e.g. Raiders of the Lost Ark.
Fear and Loathing
Say for argument's sake there were genuine practitioners of these phenomenon and they were able to manifest their gifts on demand. Who in their right mind would entrust themselves to the US Military for example? Or to BP to do oil exploration? For those not wedded to capitalism, sometimes money is not a convincing motivation.
The Loony fringe
As one peruses the 'crazy phenomenon' column, one is reminded that within any group of humans, any organisation, community or belief system there are the crazy fringes, extremists and fraudsters who tend to attract all the attention.
We all have our biases, presuppositions and preconceptions. The question is whether we can overcome those to engage in genuine exploration or whether we simply search for reasons to confirm them.
Free your Mind
The universe is too large and mysterious to have our understanding and perception of it constrained by the narrow bounds of the scientific method. In reality, life is full of the 'unexplainable' and the 'spiritual' – something that the West is rediscovering as we transition into post-modernism.
In the end, the machinations of capitalism, ruthless or not, seem to me, ill suited as a means of judging the veracity of supernatural phenomenon.